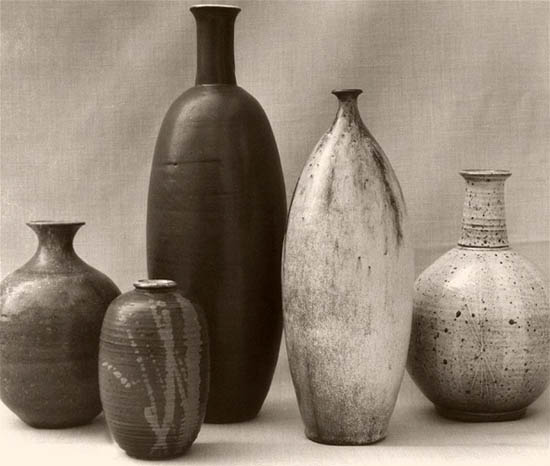 ROBERT MAXWELL: A CALIFORNIA ODYSSEY
by Jack Chipman
Robert Maxwell is probably best-known for the imaginative stoneware animal sculptures he produced in the 1960s in Venice, California. But he is much more than that. He is an accomplished potter who can and does produce just about any form on the potter's wheel.
NAVY
Maxwell was born in Los Angeles in 1932. He received his advanced education at Pasadena City College (1953-55) and the University of California at Los Angeles (1955-59), where he earned a MFA Degree along with general and secondary teaching credentials. In between PCC and UCLA he served in the US Navy.


UCLA
After discharge from the Navy, he enrolled as an art major at UCLA but his first ceramics class in 1955 was a turning point. Then and there he discovered that working in clay and creating third-dimensional objects would be his destiny.
His academic experience at UCLA was enriched by ceramic instructors Laura Andreson (who headed the department) and Bernard Kester. These prominent working professors instilled in him a love of ceramic form and decoration but also emphasized the discipline of design.
BEASTIES
The animal sculptures that many collectors fondly refer to as "critters" or "beasties" came about in graduate school as a "happy accident". When a wheel-thrown vase didn't work out, Maxwell employed his fertile imagination and sense of humor and transformed a misstep into an animal--an animal the likes of which had never been seen before. These critters soon multiplied and eventually became a signature style, one that continues to fascinate the many collectors of his work.
VENICE BUSINESS
In 1960, shortly after receiving his MFA from UCLA, Robert Maxwell was invited to share the Venice studio of potter David Cressey. Cressey, who was a UCLA teaching assistant at the time, was the one who had provided undergraduate Maxwell with his introduction to clay.
Maxwell spent a couple of years perfecting his skills in tandem with Cressey, but after finding a suitable Venice location in 1963 he established an independent ceramics business. Engaging in what was essentially production came naturally due to a propensity to be prolific. Forming a relationship with the NS Gustin Company, who represented the business to the trade, virtually guaranteed success.
Early on, Maxwell produced numerous variations on his quirky animals theme, many of which were slip-cast. At the onset of production, the Maxwell animals were manufactured through an arrangement with the Winfield China (American Ceramic Products, Inc) plant of Santa Monica. Robert and wife Gaye Lyn, who assisted in many aspects of the business, had already employed George Binkley of the Santa Monica Mold Shop as their mold maker (and occasional modeler.)
Because his business was in close proximity to ACP and the Maxwells had no stoneware slip at the time, they decided to enlist the help of the neighboring company. The assisted production using Winfield's porcelain slip and a sprayed-on engobe that simulated the rough texture and color of stoneware lasted less than a year.
TIMELINE


1932
Born in Los Angeles


1950
Graduation from Monrovia-Arcadia-Duarte (MAD) High School


1953
Graduation from Pasadena City College


1953-55
Military service in the US Navy


1957
Bachelor Degree from the University of California at Los Angeles


1957-63
Shares Venice studio with David Cressey


1959
MFA Degree from UCLA along with General and Secondary teaching credentials


1957-59
Teaching assistant at UCLA


1959-63
Ceramics instructor at Santa Monica High School


1960-61
Included in traveling exhibition organized by the Long Beach Museum of Art


1962
Art instructor in adult education at Santa Monica City College


1963
Ceramics instructor in adult education at Cerritos Junior College


1964
Marriage of Gaye Lyn and Robert Maxwell






1963-70
Robert Maxwell ceramics business located in Venice