ROBERT MAXWELL: A CALIFORNIA ODYSSEY
- Continued -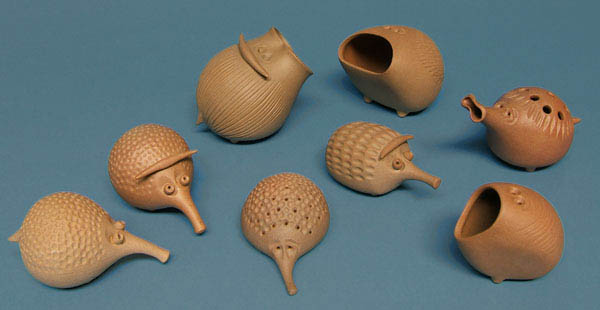 NS GUSTIN CO
After a suitable stoneware slip was developed, the ceramic beasties really caught on and became a very successful line for the business. The Gustin representation allowed the fledgling operation access to numerous department stores and gift shops nationwide. Prior to this, the Maxwells had to sell and distribute the product themselves and only within a limited geographic area. Because Robert had a pilot's license, some of the early ware was delivered to its destination by plane and for a time he became known as the "flying potter". His one-of-a-kind pieces were marketed through some of the finer stores in the country such as Gumps, Bloomingdales and Neiman Marcus. It is interesting to note that Maxwell's Venice business was located directly across from the distinguished Charles & Ray Eames design studio. It was the Eames' success with mass-produced modernist furnishings that helped pave the way for acceptance of the pots produced by Maxwell and others as proper accessories for the modern home.
NOEL OSHEROFF
Through his association with colleague David Cressey, Robert Maxwell became aware of the work of a talented local ceramist named Noel Osheroff, who was invited to create a series of models for the Maxwell line. For a limited time, castings of her distinctive human figures in intimate familial poses were produced in the Maxwell workshop and distributed by the Gustin Co.
U NAME IT
As the business grew, additional help was needed and at its peak six people--each having a specific duty--were employed. In 1964, a little book called U Name It was published that showcased Maxwell's offbeat sense of humor. It pictured his unusual animal sculptures in various arrangements along with humorous captions. The potter even appeared on the Steve Allen TV show to promote the book and present his curious creations to a wider audience.
Click for inside pictures

Click on image for additional examples
TREASURE CRAFT
In 1969, Al Levin of Treasure Craft of Compton approached Robert Maxwell with an ill-fated business proposition. Because the Venice quarters had become rather confining by then, the plan to purportedly unite his growing stoneware business with Levin's considerable pottery establishment (as a separate division that later became known as Pottery Craft) was agreed to. Unfortunately the partnership soon soured as Levin demanded more and more control over the Maxwell operation. It is now believed that the sole reason for the merger was to acquire his working knowledge, clay body, glazes, glazing style, and master molds although the latter were evidently never used.
FALLBROOK STUDIO
Following the falling-out with Treasure Craft, the Maxwell husband and wife team started over. In 1970 they moved to Fallbrook, in north San Diego county. Their home-based Fallbrook business was located on an acre of property purchased there. The majority of the output at this time was handcrafted although a line of miniature slip-cast vases was produced for the gift shops at Disneyland. Robert Maxwell's designs were clearly on the cutting edge so again success came easily with the help of a new Chicago-based representative.
The large vase in the back is for scale and the
smallest one is only 1 3/4" tall
EARTHGENDER
Just as the Fallbrook business had established a firm foundation, a new proposal was on the table. This time, it was friend David Cressey (recently resigned from his position with Architectural Pottery) who was advocating a merger with the Maxwell's. His plan to manufacture large-scale contemporary planters much like the specialty of the Manhattan Beach pottery he had worked for, was approved and a new business christened "Earthgender" was established in an industrial area of El Segundo (near LAX.) The company would produce Robert Maxwell designs on a really big scale.

Despite the high hopes of both partners this new enterprise ultimately proved unsuccessful. One obstacle was the growing popularity of pre-cast concrete and light-weight fiberglass planters. However, the negative economic climate of the mid-70s was the major factor that led to the closing of Earthgender in only its 4th year of operation.
TURNING POINT - TEACHER RAMONA CONVENT SECONDARY SCHOOL
In 1992, following an interim in sales, Robert Maxwell accepted a teaching position at Ramona Convent Secondary School of Alhambra, a parochial all-girl high school. The position was a ceramics, calligraphy, and drawing instructor which were all subjects that Maxwell was qualified to teach. Robert has subsequently credited this decision as "a turning point" in his life. "Mr. Max", as his students affectionately called him, remained on the Ramona faculty until his retirement in 2012. During this 20 year teaching period, Robert inspired his students to discover and develop their creative talents and gave them a fun environment to relax and learn. Robert also rediscovered his own creative passion for ceramics as his teaching classroom was also a working ceramics studio. During this Ramona period Robert produced a significant number of unique handcrafted objects. He was able to hone his technical skills while he created new design motifs in addition to reprising designs first pioneered in the 60s and 70s. By the end of his pottery career, Robert could literally produce about any object his fertile imagination could dream up.

RETIREMENT YEARS
Robert retired from his teaching position in 2012, at 80 years of age. He also effectively retired from ceramics, due to the inability to secure acceptable studio space. Robert spent a quiet retirement in Monrovia, California with his wife of many years, Gaye Lyn. He was able to enjoy many rounds of golf with friends, as well as spending time with family and traveling to visit his grandchildren. Robert passed away in March 2020 at 87.
in memoriam: Robert Maxwell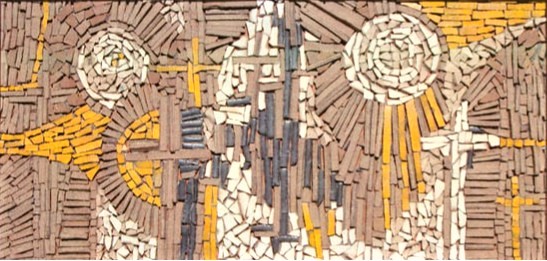 Click on image for additional pictures
TIMELINE
-Continued-


1964
Small book,
"U Name It: Sculptures by Robert Maxwell" is published




1964
Featured guest on the Steve Allen television show




1964



Molded vinyl toys called "Stickie Ickies" based on the Maxwell critters are produced by the Ohio Art Co




1970-71
Short-lived alliance with Treasure Craft in Compton, California




1971-73
Established small studio pottery operation in Fallbrook, California




1973-77
Earthgender business partnership between David Cressey and Robert Maxwell located in El Segundo, California




1977-92
Started a company to represent concrete and fiber glass planters and containers for commercial building projects




1992-2012
Ceramics, calligraphy, and drawing teacher at Ramona Convent Secondary School of Alhambra

Studio pottery resumed




2012-2020
Retirement years spent in Monrovia, California

No pottery produced after 2012




2013
Coffee table book, "Robert Maxwell-California's Pioneer Master Potter" published with Norman Abbey




2020
Died: March 31, 2020, Monrovia, California